A growing operation that has successfully established itself in the Hawke's Bay region over the past five years is Fuller Feijoas. At the helm are husband and wife team, Brent and Philippa Fuller.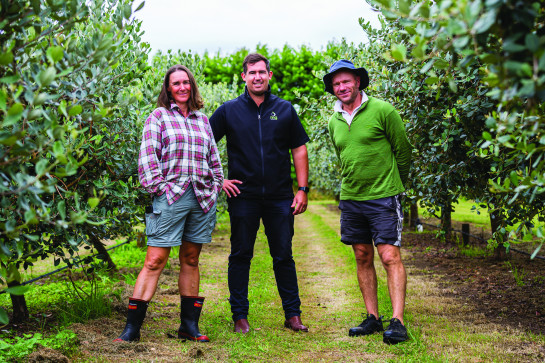 Unlike many growers who are born into farming, the entrepreneurial Fullers have been involved in a range of different industries. Prior to transitioning from a 300-tree hobby-orchard into a full-scale growing operation, they started a kombucha business from scratch, owned a popular local café and set-up an IT business that develops software for ports and tertiary education providers - a company that Brent continues to work in today.
While working full time in the horticulture sector is relatively new to them, they've always enjoyed growing, with a lot of time spent propagating and planting native trees on their nine hectare property.
"We've always liked a broad range of things to do," says Philippa. "We've been lucky to be able to give a number of different things a go but you also have to like what you do, or it won't last."
The decision to expand the orchard was driven by a desire to do something they love, while also prompted by a chance-conversation with the late-Ian Reisima who was a senior member of the MG procurement team. Now in the safe hands of MG's newest procurement manager, Zach Zaloum, they continue to supply branches throughout the MG network.
"Once we sold the café we wanted to step into something that was interesting and that we enjoyed doing," says Brent.
"Around that time, I was playing touch rugby with Ian and he happened to come by our place and noticed that we had a fair few feijoa trees. He asked me about our plans and whether we'd thought about selling them."
"Ian was a great help, providing a lot of good information about what we needed to do next and how we could grow the business."
"We also did a lot of online research, used the NZ Feijoa Growers Association, visited other growers but mainly it's experimenting and giving things a go."
"Once we got going we started supplying MG and we haven't stopped."
While Fullers have developed into one of the main suppliers of feijoas to MG, they don't aim to become a large corporate grower. Their business is at a scale that suits their lifestyle and feijoas, described by Philippa as "a lighter touch" fruit, fit nicely into their plans.
"Unlike when we had café, it's easier to go away for a few days and that's something we like about it," says Brent. "Outside of harvesting and pruning, we also have no staff."
"Feijoas are relatively easy to work with. We had a reasonable number of trees when we had the café and the good thing was, we didn't have to do much to them."
"There's a little bit of spraying with organic oil and we like to prune them fairly short to avoid using ladders for picking, but all-in-all they're fairly low maintenance."
"Don't get me wrong, it's still a lot of hard work and at times of year the hours are long, but it's hugely rewarding."
"The process is straight-forward too. We pick them, grade them, pack them into crates, then onto pallets. I then drive to Hastings to the transport company and they travel onto where Zach asks us to send them."
Aside from the growing qualities, Philippa says they're an incredibly versatile fruit that is growing in popularity. Renowned for being high in fibre and vitamins, they also have antioxidant and anti-inflammatory benefits.
"We stretch the season by bottling and dehydrating them, making chutney, jelly, cordial, ice cream, fruit paste, fruit leather and they're an excellent fruit for smoothies, baking and desserts" says Philippa.
"You name it, we'll try it. We're learning as we're growing."
Top: Brent & Philippa Fuller with MG Representative Zach Zaloum.