Jason and Hannah Galloway get a great sense of pride from growing quality Satsuma mandarins, Encore Mandarins, Navel Oranges, limes, Finger limes, Yen Ben lemons, and Meyer lemons on their orchard in Ormond, near Gisborne.
They're not the type of growers who sit back and watch the trees grow. They're constantly seeking advice and guidance from the team at First Fresh who offer best-practice input into orchard management. On top of that, they're always on the lookout to find new citrus varieties that offer great taste, yield and superior quality to consumers.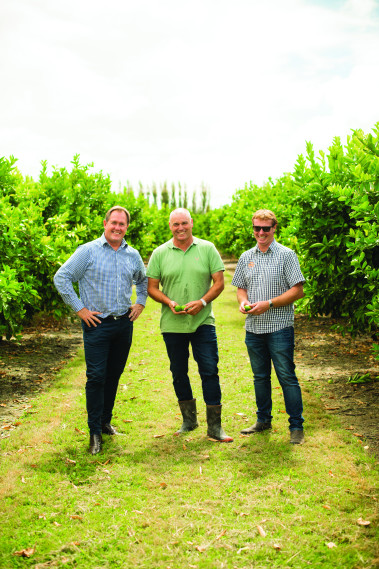 Unlike many growers, the Galloways weren't born into growing, with Jason only starting full time on their 15 hectare citrus orchard in 2018. In many ways their background and experience has helped them see things through fresh eyes.
When visiting their home-block, it's clear they've worked tirelessly to build a business that is underpinned by fresh ideas, innovation and a strong team culture.
While they are relatively new to farming, they've made a significant impact with their leadership in the New Zealand citrus category and were acknowledged at the 2021 First Fresh "Freshies", where they picked up the Supreme Award. The judges said the recognition was not only for delivering high-quality fruit but also for being active in the citrus industry.
"Our approach is to always improve and build on what we are already doing," says Jason. "This means enhancing quality and efficiencies, reducing waste and improving yield."
Before working full-time in the industry, it was a busy time for the family who juggled a number of roles. As well as being a full-time fireman, Jason was working on the current home block while Hannah worked as a dentist, all while raising two young children.
"I was 27 years in the Fire and Emergency Service in the UK, Palmerston North, Taupo and then Gisborne, but growing wasn't completely new to me," said Jason. When I left school I worked on apple orchards in the Hawke's Bay."
"Because of the nature of the hours in the fire service, I was able to also work on this block at the same time, so it wasn't a complete change."
While the family has built up a decent base of knowledge, Jason admits that the transition from part-time interest to full-time commitment was somewhat of a leap-of-faith.
"We had a fair idea but didn't really know how we'd go, when we added two new properties to the home block which we already owned" said Jason. "Looking back, the new properties were a bit run-down to the point where it was difficult to get down the rows."
"We chipped away and worked at developing it. We've now pulled out most of the older trees to plant better producing varieties."
"Some growers have trees around 50 years old and they tend to grow poor fruit, while young vigorous trees grow much better fruit. If you don't keep replacing it you'll end up behind the eight-ball."
Jason works closely with the team at First Fresh, investigating innovative ways to match the crop performance to customer expectations. They've adapted their management to advance the citrus category, including putting in place industry-leading practices and a real effort has been made to trial new varieties.
"It's pretty clear that the citrus industry's got a bit stale and needs some new varieties so someone has to take the risk don't they," says Jason. "If no one ever gives it a go the industry stays stagnant."
"We've pulled out most of the older trees now to make way for our experimental block."
"We've got a decent number of finger limes and new seedless lemons planted."
When asked about winning the Supreme Award at the First Fresh "Freshies" Jason joked that maybe it was his turn.
"Winning the award was really encouraging for our business," said Jason. "The time and effort is paying off."
"It's not just me and Hannah, we're lucky to have a passionate and hardworking team and they deserve a lot of the credit."
Picture: MG Representative Mike Breitmeyer, Jason Galloway & First Fresh Representative Matt Carter