Kevin Bayley has come a long way since his days as a hawker selling fruit and vegetables on the side of the road in the 1980s and 1990s.
Over three decades on, Kevin and Karen Bayley are owners of one of the premier growing operations in the Hawke's Bay. They continue to expand their business, which spans more than 300 hectares across Twyford, producing summerfruit, pip fruit, melons, corn, strawberries, peas and beans.
"I'm predominantly a summerfruit grower, that's my real passion," says Kevin. "It came about when I bought a struggling summerfruit orchard in 1990."
"Everyone told me I'd go broke but it was the opposite. I had five outlets at the time and was able to move all the fruit we grew and the orchard ended up paying for itself in the first year."
"It was long hours and damn hard work but buying that orchard was how I got traction to expand after just one year."
Despite continually growing their business to meet consumer demands, Kevin has been careful to maintain the high standards for which they have become known.
"I take a lot of pride in what we grow – sometimes I wonder if I'm a bit fussy," says Kevin.
Bayley's Produce has developed into a year-round business growing a large number of categories and employing 35 permanent and 250 seasonal workers.
When interviewing Kevin in his work truck, he stopped to wind down his window and have a light-hearted chat with a couple of workers in a ute – after which he rhetorically asked, "what did that cost?".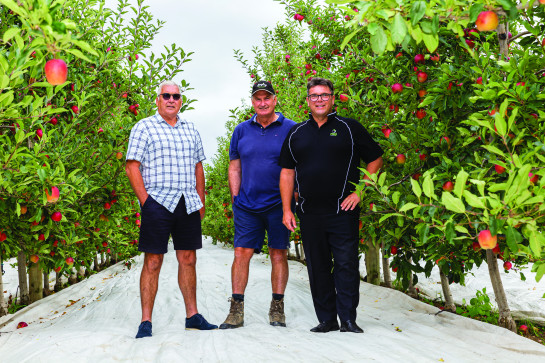 "Even though we've grown, I think it's important to maintain a personal touch with the teams," says Kevin.
"I don't spend too much time in the office, I prefer to spend time out on the farm."
While Kevin might come across as a typical hardworking Kiwi bloke, make no mistake, he is an astute businessman, who doesn't let opportunities pass him by.
An obvious example is the work he has undertaken to develop the new variety of apple called the Bay Queen. Unlike other new varieties that have been bred, the Bay Queen was a natural sport, spotted by one of his team members who was spraying a crop of Royal Gala.
Kevin downplays the discovery as a stroke of luck, but as he goes into more detail it becomes clear that there's been a decade of hard work that underpins the new apple, including grafting, planting, trialling, not to mention the three-year process to obtain Plant Variety Rights (PVR).
"Once I saw the full branch of block red fruit, I knew it was unique," said Kevin. "It has been a slow burn with a lot of monitoring and propagating to see how it would perform."
"Now, ten years on, we couldn't be happier. It yields exceptionally well, the flavour is balanced and it comes on much earlier than other varieties."
Having spent the time developing the new variety, Kevin worked with MG Marketing subsidiary business, Te Mata Exports, to nurture it through to the early stages of being commercialised. He acknowledged that his strength is growing, and with his time required on a number of other large projects, he entered into an agreement for Te Mata Exports to acquire the exclusive rights to the Bay Queen.
"We're integrated with MG through their summerfruit IP we grow and our shareholding, so it made sense to partner with them and Te Mata Exports," said Kevin.
While the variety is still very new, ten thousand cartons will be packed this year.
"I have no doubt it will be a huge commercial success," says Te Mata Exports Director, Murray Tait.
"We are continuing our market testing and all indications are that it will be hugely popular, especially in the early season window when almost all other New Zealand apple varieties are not available."
"Looking at the crop here today, any grower would be impressed, from the tree shape, fruit load, colour and individual pieces of fruit."
Top: Kevin and Karen Bayley
Bottom: Te Mata Director Murray Tait, Kevin Bayley and MG Representative Rob Hollier.